From Berlin to the Ziegeleipark via GRANSEE.
With the regional express RE5 from Berlin to Gransee. It runs on weekends, public holidays and during the Brandenburg holidays bus 854 from Gransee train station to Ziegeleipark and back.
Mon – Fri (holidays) + Saturday + Sunday
From Gransee train station
from 10:40 | 11:40 | 12:40 p.m
via Gransee Templiner Strasse
from 10:42 | 11:42 | 12:42 p.m
to Mildenberg Brickyard Park
at 10:57 | 11.57 | 12:57 p.m
From Mildenberg Brickworks Park
from 13:50 | 15:50 | 16:50 p.m
at 14:07 | 16:07 | 17:07 p.m
From Berlin to the Ziegeleipark via ZEHDENICK.
With the regional train RB12 (Berlin-Lichtenberg - Templin Stadt) every hour to Zehdenick (Mark). Arrived in Zehdenick it continues with the bus 838. This runs daily from Monday to Friday. On weekends and public holidays there is an individual on-call bus, which leaves 90 minutes before departure + 49 3306 - 23 07 can be booked. During the holidays, however, only scheduled taxis with limited space are available.
Save twice with the Brandenburg-Berlin-Ticket.
If you present your Brandenburg-Berlin ticket, you will receive a 10% discount on the entry fee for the Ziegeleipark. Season tickets and events are excluded! In principle, the VBB tariff applies on buses and trains.
The brickworks park is located directly on the 630 km long Long-distance cycle route Berlin-Copenhagen. 122 km of them lead through the state of Brandenburg and invite you to wonderful tours.
If you have arrived without a bike, simply use our in-house bike rental.
As guests of the brickworks park, you can charge your e-bike for free!
Feel free to call us on 03307 30 25 44.
Attractive themed trails and routes in the Ruppin Lake District.
Have a look through our tour suggestions
TIP: Our bikes can also be hired at the ELAN petrol station in Zehdenick. Registration under 03307 311 566.
It takes about 30 minutes by bike from the Zehdenick train station to the Ziegeleipark.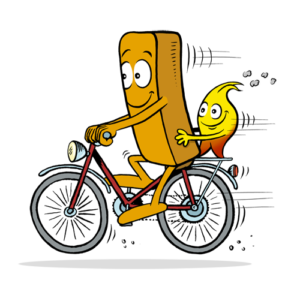 From Berliner Ring on the A 10 to Kreuz Oranienburg. Then continue on the B 96 in the direction of Stralsund / Löwenberg to Gransee. Then turn right at the roundabout in the direction of Zehdenick. Turn left 1 km after Badingen and follow the signs to the Ziegeleipark.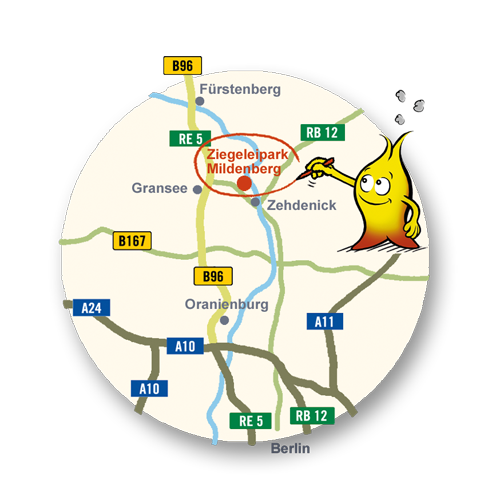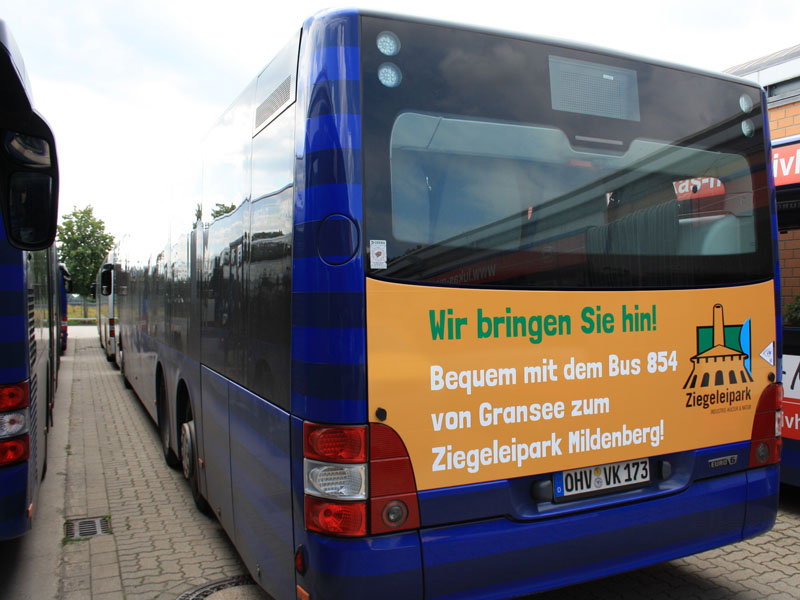 our recommendation
Oberhavel Transport Company
Fill up with electricity in the Mildenberg brickworks park
Our charging station now also has a type 2 quick charging socket. Weatherproof in a box with a 3-phase socket, it supplies 400 volts, 16 amps with 11 kW of power. This voting box has an integrated DC residual current detection and a residual current circuit breaker. Operated with Havelstrom from Stadtwerke Zehdenick.
In addition to the quick charging socket, there are also 4 normal sockets for charging bicycles, scooters and motorbikes.
Vehicle loading is available for guests of the Brickyard Park kostenfrei. Passers-by pay 5 euros per car for charging.
Scooters and motorcycles have to pay 2,50 euros and Bikes can charge for free!
Further information and the key for charging can be obtained from the visitor center.
Opening hours: April 01 – November 6, 2022, 10 a.m. – 18 p.m.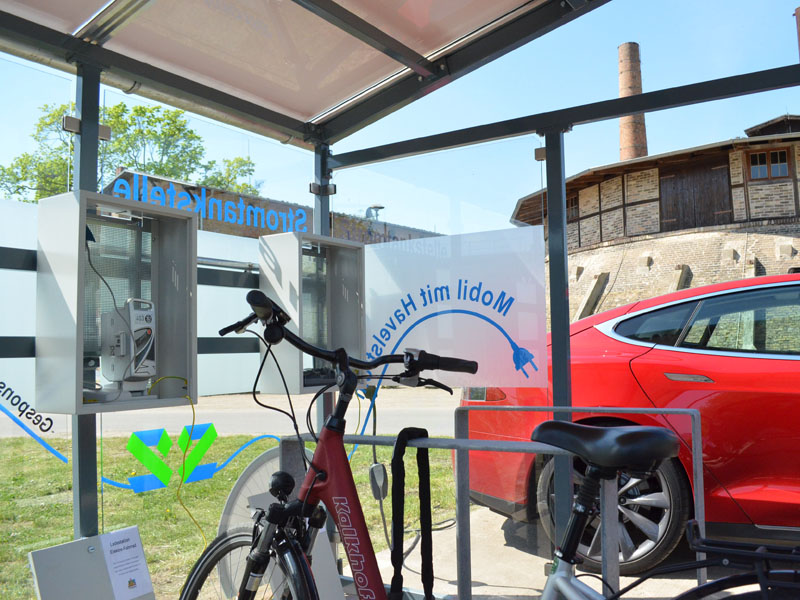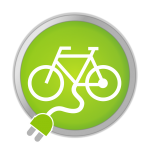 Industrial culture without barriers
The brickworks park thinks barrier-free. We check all our offers for accessibility and constantly try to improve. All areas in the brick factory park are largely barrier-free and also accessible for people with restricted mobility. There are exceptions where monument protection and cost reasons prevent it.
For example, the park offers disabled parking spaces and two toilets for guests with disabilities. Walkers and wheelchairs can be borrowed from the visitor center. There is also a tactile model of the brickworks park with information in Braille.
Detailed information on accessibility in the Mildenberg Brickworks Park you can find here.
The website offers information on over 900 other providers from the Ruppiner Seenland and the state of Brandenburg www.sperrfrei-brandenburg.de